Next Tory Leader Betting Odds & Candidates
Updated: 22/09/2023
We take a look at the latest bookmaker Next Tory Leader betting odds. Boris Johnson has revealed he will resign, which suggests there will now be a party election to choose who ends up being the next Conservative leader and prime minister.
They will need to secure the support of Tory MPs, with the final 2 candidates going to a tally of Conservative members.
So who are the possible candidates and what are their respective Next Tory Leader Betting Odds?
Remember, the majority of these Ministers and mps have not yet stated whether they desire the job of Tory leader and PM – however they are the ones to view. Others might also step forward.
---
Next Tory leader Betting Odds & Candidates
Next Permanent Conservative Leader betting odds by Betfred bookmaker on 08/07/2022
Applies To Next Permanent Conservative Leader After Boris Johnson (All In – Run Or Not)
Ben Wallace 3/1
Rishi Sunak 5/1
Penny Mordaunt 6/1
Tom Tugendhat 13/2
Nadhim Zahawi 10/1
Liz Truss 10/1
Sajid Javid 12/1
Jeremy Hunt 14/1
Steve Baker 25/1
Suella Braverman 40/1
Dominic Raab 50/1
Grant Shapps 66/1
James Cleverly 100/1
Greg Clark 100/1
Graham Brady 100/1
Kwasi Kwarteng 100/1
Jacob Rees-Mogg 100/1
Priti Patel 100/1
Andrea Leadsom 100/1
Jesse Norman 100/1
David Davis 100/1
Michael Gove 100/1
Theresa May 100/1
Lee Anderson 100/1
Simon Clarke 100/1
Anne Marie Trevelyan 100/1
David Frost 100/1
Therese Coffey 100/1
Oliver Dowden 100/1
Theresa Villiers 100/1
Robert Buckland 100/1
Robert Jenrick 100/1
Kit Malthouse 100/1
Julian Smith 100/1
Stephen Barclay 100/1
Damian Hinds 100/1
Brandon Lewis 100/1
Esther Mcvey 100/1
Kemi Badenoch 100/1
Johnny Mercer 100/1
Mark Harper 100/1
Tobias Ellwood 100/1
Andrea Jenkyns 200/1
Matthew Hancock 200/1
Mark Francois 200/1
Alan Mak 200/1
Nadine Dorries 200/1
Alok Sharma 200/1
Bim Afolami 200/1
Ruth Davidson 200/1
Geoffrey Cox 200/1
Ben Bradley 200/1
Gavin Williamson 200/1
George Freeman 200/1
Liam Fox 200/1
David Cameron 500/1
George Osborne 500/1
Rory Stewart 500/1
Nigel Farage 500/1
---
Rishi Sunak 5/1 Odds
Former Chancellor of the Exchequer
Some seen as a favourite to replace Boris Johnson as Conservative leader
Credibility dented by a controversy over his better half's tax affairs and being fined for breaching lockdown rules
Became an MP in 2015 – for the North Yorkshire constituency of Richmond
Was chancellor of the exchequer less than five years later on in 2020
Grappled with the coronavirus pandemic, investing substantial amounts to keep the economy afloat
Among the first to quit the cabinet with minister and pal Sajid Javid, leading the way for the stream of resignations
---
Liz Truss 10/1 Odds
Foreign Secretary
Only the second woman to lead the Foreign Office, taking credit for securing the release of Nazanin Zaghari-Ratcliffe from Iran
Has held a series of cabinet positions, consisting of working out post-Brexit trade agreements as international trade secretary
First elected in 2010 as MP for South West Norfolk and popular amongst Conservative Party members
Buffooned for offering a speech at the 2015 Conservative conference on UK cheese imports
Early declaring her support for Boris Johnson after his chancellor and health secretary resigned
---
Sajid Javid 12/1 Odds
Former Health Secretary
Born in Rochdale to a first generation Pakistani immigrant family
Became MP for Bromsgrove in 2010 after a profession in the City
Tried for the leadership in 2019, making it to the final 4 prior to dropping out to support Boris Johnson
His recommendation was rewarded with the function of chancellor, but he stopped after 6 months in a row over his advisers
Made a return to the front benches as health secretary in 2021 before resigning again, stating he had despaired in Mr Johnson's management
---
Nadhim Zahawi 10/1 Odds
New Chancellor of the Exchequer
Born in Iraq, Mr Zahawi and his family were required to flee when Saddam Hussein concerned power
After establishing a firm offering Teletubbies merchandise and starting polling company YouGov, he became MP for Stratford-on-Avon in 2010
Cemented his credibility as vaccines minister in the pandemic, causing a promotion to the cabinet as education secretary
Another promotion to chancellor did not stop him from joining a group of ministers 24 hours later on informing Mr Johnson to go
---
Jeremy Hunt 14/1 Odds
Member of Parliament
The child of an admiral, he made his fortune by setting up Hotcourses – a site linking prospective trainees with universities
Gone into the Commons in 2005 as MP for South West Surrey
Signed up with the government as culture secretary in 2010 and has actually also functioned as health and foreign secretary
Came second to Boris Johnson in the 2019 management contest and has actually stayed an influential backbencher
Scrutinised federal government policy throughout the pandemic as chair of the Commons Health Committee
---
Suella Braverman 40/1 Odds
Attorney General
Ended up being a minister at the Department for Leaving the EU under Theresa May however resigned over Mrs May's EU withdrawal offer
The previous barrister changed Geoffrey Cox as attorney general in 2020 and remains because role
Has actually acted as MP for Fareham in Hampshire considering that 2015
Verified she would sign up with a Tory management race, stating "it would be the greatest honour"
Called for Boris Johnson to quit following a series of ministerial resignations
---
Penny Mordaunt 6/1 Odds
Minister of State
Made history becoming the UK's first female defence secretary in 2019
A marine reservist, she had actually already served as armed forces minister under David Cameron
She is a former magician's assistant and head of the Conservative Party's youth wing
Finest known outside Westminster for appearing on ITV's celeb diving reveal Splash!
Formerly a press officer for William Hague when he was celebration leader and Kensington and Chelsea Council
Became MP for Portsmouth North in 2010
---
Ben Wallace favourite at 3/1 Odds
Defence Secretary
Led Boris Johnson's not successful 2017 management campaign, before being rewarded with a cabinet post in 2019
Served in the Army in Germany, Cyprus, Belize and Northern Ireland where he assisted prevent an IRA bomb attack
Was also among the main army workers associated with recuperating Princess Diana's body from Paris
The former soldier became an MP in 2005 – for Wyre and Preston North, previously Lancaster and Wyre
While in the Scots Guards, he is said to have broken the record for the largest ever costs at the bar in the officers' mess
---
Tom Tugendhat 13/2 Odds
Member of Parliament
A previous Territorial Army officer who served in Iraq and Afghanistan and has been talked up for years as a prospective future Conservative leader. To release a leadership bid, stating: 'It's time for renewal'
Chairman of the Commons Foreign Affairs Select Committee considering that January 2020
Ended up being an MP in 2015– for the constituency of Tonbridge in Kent
A moderate who forecasts pragmatism instead of populism
Informed MPs of the grief and rage felt by veterans at the "desertion" of Afghanistan in withdrawal by western forces last year
---
Steve Baker 25/1 Odds
Member of Parliament
Chosen as the Conservative MP for Wycombe in 2010 after 10 years as an engineering officer in the Royal Air Force
Following the 2015 general election, he co-founded Conservatives for Britain, a group of 50 Tory MPs putting pressure on David Cameron to renegotiate UK membership of the EU
A member of the Eurosceptic European Research Group, he later on turned into one of the so-called "Spartan" holdouts battling versus Theresa May's Brexit offer
Made it known that coworkers have actually "implored" him to mean the management
---
Priti Patel 100/1 Odds
Home Secretary
Elected to the seat of Witham in Essex in 2010 after a number of years in PR for the Conservative Party and lobbying for tobacco and alcohol markets
Acted As Theresa May's global advancement secretary, but forced to stop over unauthorised conferences with Israeli political leaders
A prominent Brexiteer, she when argued Boris Johnson was the only person who could conserve Brexit and the Tories
Rewarded with the position of home secretary in Mr Johnson's first cabinet
Just recently sided with a delegation of Cabinet ministers urging Mr Johnson to step down
---
Grant Shapps 66/1 Odds
Transport Secretary
Served as a minister under David Cameron and Boris Johnson
Appointed co-chairman of the Conservative Party in 2012, serving in the post until 2015
Stopped as worldwide advancement minister in 2015 amidst claims he failed to act upon claims of bullying
When Boris Johnson became prime minister in 2019, appointed transportation secretary
Studied organization and finance at Manchester Polytechnic and went through cancer treatment before ending up being MP for Welwyn Hatfield in 2005
---
Defence Secretary Ben Wallace seems the favourite to replace Boris Johnson as PM and celebration leader among Tory party members.
A YouGov poll of 716 Conservative party members put Ben Wallace just ahead of Penny Mordaunt, who was followed Rishi Sunak.
Relevant news
Next Prime Minister betting – who will replace Theresa May?
[ad_1] By Craig Kemp 24th May 2019 Theresa May is to stand down as the…
read more +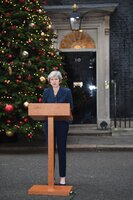 Theresa May odds-on to win the vote of confidence 
[ad_1] By William Hill Last Updated: 12th December 2018 British Prime Minister Theresa May has…
read more +
PM odds-on to survive no confidence vote AND to step down in 2019
[ad_1] By William Hill 16th January 2019 Theresa May is trading at a mere 2/7…
read more +