Has Nadal staked his claim for greatest of all time?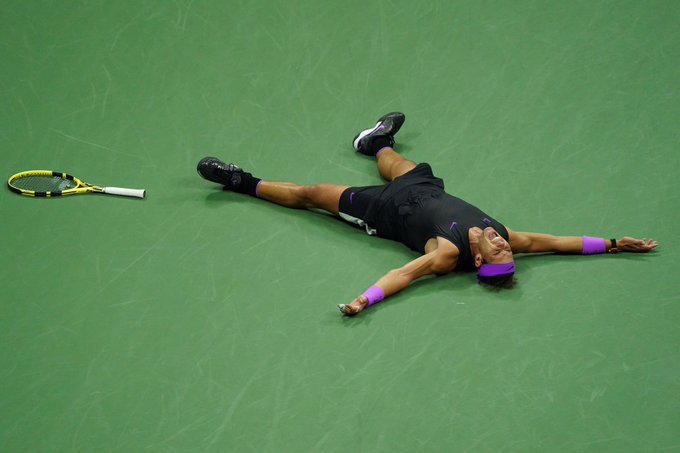 Updated: 22/09/2023
Rafael Nadal claimed his fourth US Open title last night, after a five-set thriller with Daniil Medvedev. It takes his tally to 19 Grand Slams overall – just one behind Roger Federer.
Many people were quick to dismiss Nadal as a clay-court specialist when he burst onto the scene all those years ago.
There's no denying that his best surface is clay (and 12 wins at Roland Garros only backs this claim up further), but his ability to adapt to the grass and hard courts is a demonstration of his commitment to being an all-time great.
The Spaniard's fourth US Open title marks another crowning achievement in an incredible year. He is now 27-1 in his last five events, with titles in Rome, Roland Garros (below), Montreal and New York, and is now the frontrunner to finish the year as world no 1.
It is easy to forget how strenuous Nadal's path has been in recent years. He spent much of the 2018 season battling different injuries. He withdrew or retired from 11 of the 12 hardcourt events he played and, after ankle surgery at the end of the year, was forced out of the spring US hardcourt events at Indian Wells and Miami with a hip injury.
At 33, it's harder for his body to recover, but once again he's proven himself to be some sort of Herculean figure. The Spaniard was reduced to tears post-match after his five-hour battle with Medvedev, perhaps signalling that he was cherishing the moment, and potentially realising he may not have many of these left.
Medvedev has certainly given tennis fans hope for after the 'Big 3', and looks to be a Grand Slam champion in the making.
G.O.A.T?
The age-old debate in tennis, like in many sports, is "who is the greatest of all time?" Nadal's victory at Flushing Meadows only further prompts this question.
In football, it seems to be the conversation every other week when discussing Lionel Messi and Cristiano Ronaldo (both below), and people will use every stat in the book to further their case. In the end, though, there's no definitive answer – it's just opinion.
The 'G.O.A.T' conversation in tennis has concentrated upon Federer and Nadal, but Novak Djokovic's achievements in recent years have catapulted him into the debate. These men are the top three in terms of total Grand Slams won – Federer is on 20, Nadal is now on 19 and Djokovic is on 16.
Other players like Rod Laver, Pete Sampras and Bjorn Borg all get a honourable mention but it seems like fans of this generation all agree that Federer, Nadal and Djokovic are the best three male players of all-time, regardless of order.
Federer's total of 20 has always seemed to be the benchmark, and it now looks to be in real danger of being surpassed, whether it is by Nadal or Djokovic. Djokovic is still the early favourite for next year's Australian Open at 6/4, but Nadal is close behind at 7/2.
Melbourne gives Nadal the chance to draw level with his great rival,  and after Roland Garros next year, Federer's tally could be equalled or bettered.
Nadal stopped Federer's dominance on grass, if you cast your minds back, in arguably the greatest tennis match ever, at Wimbledon in 2008. The only question mark on Nadal's resume at the moment is that he hasn't won the Australian Open since his only triumph there in 2009, and he hasn't won Wimbledon since 2010.
If he wins one more Down Under and one more at SW19 before he retires, and surpasses Federer's record at the same time, then he definitely moves to the top of some people's lists. He's probably top of a few now, to be fair.
Whenever you bet on Tennis, Betfred
Relevant news