Report of fraud at Bury FC investigated
03/09/2019
|
Categories:
Football
|
Published by:
AC
Updated: 26/11/2023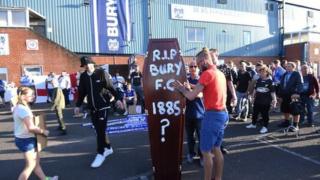 A fraud investigation has been launched involving Bury Football Club, police have confirmed.
Greater Manchester Police said it received a report of fraud on 18 June and enquiries were ongoing but no arrests had been made.
The club were expelled from the English Football League (EFL) on 27 August after a late takeover bid from C&N Sporting Risk failed.
Bury were the first club to drop out of the league since Maidstone in 1992.
The Greater Manchester club were members of the EFL for 125 years.
Timeline: Bury's EFL demise
30 July: EFL suspends club's first game of the season asks them to prove financial viability
9 Aug: Bury are given until 23:59 on 23 August to provide "clarity required" as third game is called off
20 Aug: Sixth Shakers game suspended, while owner Steve Dale rejects offer to buy club
23 Aug: Bury granted extension until 17:00 on 27 August in light of bid from C&N Sporting Risk
27 Aug: EFL expel Bury after C&N Sporting Risk withdraws interest
29 Aug: Bury claim EFL will not rescind expulsion, despite the club revealing a further £7m takeover bid
30 Aug: Bury write to EFL as club "actively considers" legal action
2 Sept: Bury North MP reveals plan to submit a proposal to the EFL by 20 September in a bid to have Bury reinstated to League Two in 2020-21
Source link
Relevant news