Harry Gregg: Funeral of Man United and Northern Ireland goalkeeper taking place
21/02/2020
|
Categories:
Football
|
Published by:
AC
Updated: 25/03/2023
[ad_1]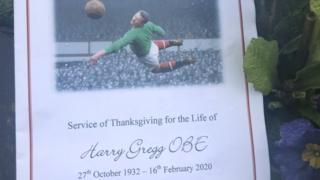 The funeral of former Manchester United and Northern Ireland goalkeeper Harry Gregg has taken place in Coleraine.
Gregg, a hero of the 1958 Munich air disaster who made 25 appearances for Northern Ireland between 1954 and 1963, died on Sunday aged 87.
He bravely rescued team-mates and other passengers following the Munich plane crash in which 23 were killed, including eight United players.
His funeral service was held in St Patrick's Parish Church in Coleraine.
Afterwards he was buried in Coleraine Cemetery.
Among the mourners were former Manchester United manager Sir Alex Ferguson, Sir Bobby Charlton and former striker Denis Law.
Also attending were First Minister Arlene Foster; former Northern Ireland international and manager Sammy McIlroy; members of Coleraine FC, including manager Oran Kearney; and David Healy, Northern Ireland's record goalscorer and Linfield manager.
Welcoming mourners, Rev Ian Ballentine said the large crowds outside the church were a tribute to Harry Gregg, who he described as an "outstanding professional footballer and a man of exceptional courage".
The congregation then sang Amazing Grace.
In a eulogy, BBC NI's Stephen Watson said Gregg was a "great stickler for timekeeping" so would have been thrilled that everyone had arrived at the church on time.
He said his idol as a child was Celtic goalkeeper Johnny Thompson.
He added that Gregg had deliberately flunked an exam so he did not have to go to a grammar school which played rugby, rather than football.
'Heal his scars'
Recalling the Munich disaster, he said that Gregg was told by the captain of the plane to run away as it was about to explode, but he "went back into the carnage" to rescue several team-mates and a pregnant woman and her daughter.
Mr Watson said: "What happened at Munich was a mental torment for Harry – he had a constant battle against grief and guilt.
"But as he told me – it was getting back to football that saved his sanity. He used the game to heal his scars."
Mr Watson said on the 50th anniversary of the Munich crash he met the young Yugoslavian woman he rescued from the plane, as well as the son she was pregnant with at the time.
However, he said Gregg's darkest hour was the death of his wife Mavis, the mother of his eldest two children, from breast cancer at the age of 26.
In 1965, he remarried to Carolyn and they had four children together.
He suffered another personal tragedy shortly before the 50th anniversary of the Munich air disaster when his daughter Karen died from breast cancer.
---
Hundreds brave elements for hero's farewell
by BBC News NI's Luke Sproule
It felt as if the whole of Coleraine had turned out as Harry Gregg made his final journey to St Patrick's Church.
Hundreds braved the wind and rain to pay their final respects to the hero of Munich.
Some of the biggest names in the history of football – Sir Alex Ferguson, Denis Law and Sir Bobby Charlton – arrived to remember a man who left his mark both on and off the pitch.
Eulogies recalled Gregg's strong work ethic, passion for the game and wise words of advice.
They also paid tribute to the family man – a father of six, grandfather of 10 and great grandfather of five. And there was time for some memories of a man who didn't suffer fools and wasn't adverse to the use of some "industrial" language.
Sixty-two years to the day after his Manchester United team-mate Duncan Edwards died from the injuries he suffered in the Munich disaster, Harry Gregg was laid to rest.
---
Mr Watson said that Gregg's "notoriety because of the Munich air crash came at a price" and "cast a shadow over his life that he found difficult to dispel".
"Harry's actions though on the runway that fateful day meant he transcended sporting greatness," Mr Watson added.
"He was called the Hero of Munich, but he always wanted to be remembered simply as a footballer and a coach of some repute."
Football pundit Liam Beckett paid a personal tribute to his friend.
"He was that figure that gave everyone from a working class walk of life hope. I could always look at him, he was the perfect role model," he said.
"He never courted publicity, that's what I loved about him – all the adulation that people poured on his shoulders he took in his stride.
"When I saw him most at ease with himself was with the family. That was when he was most content."
Mr Beckett also reflected on Gregg's legacy: "I was thinking of the legacy he has left, the Harry Gregg foundation, which is something I know he was so proud about – his pride and joy.
"It is about giving kids a structured platform, structured in such a way that kids could go out and enjoy it."
The congregation also listened to a poem written by Gregg entitled Jumpers for Goalposts and another written by Pablo Doherty, the son of legendary Northern Ireland international Peter Doherty who signed Gregg for Doncaster Rovers at the age of 19 and managed the national side at the 1958 World Cup where Gregg was named best goalkeeper.
In a tribute, Gregg's son John said: "Dad as a father was really, really good. The thing with dad was everybody said about his bark, but at the back of that was a real softness you very rarely saw.
"Dad knew we all loved him, ever single one of us, and towards the end I told him every single day. We all had one of the best dads. I am going to really miss him."
He added that while heaven is supposed to be a quiet and peaceful place, that would change within 30 minutes of his father's arrival.
Gregg and his family moved to Coleraine after he was born in Tobermore, County Londonderry, and he excelled as a player for his home town club before moving to England.
When he joined United in December 1957 for £23,500, Gregg was the world's most expensive goalkeeper and was voted the best at the following year's World Cup.
The Irish FA opened a book of condolence in his memory at the National Stadium at Windsor Park.
A book of condolence was also opened in Coleraine Town Hall.
[ad_2]
Source link
Relevant news