The newly promoted clubs are really showing up the Premier League's more established sides. Sheffield United and Norwich both have significant points on the board after two rounds of matches and even Aston Villa, though pointless, have performed relatively well in their progressive tactics under Dean Smith.
The new teams' displays have highlighted stagnation at Crystal Palace and Watford, where the same formation and same set of players have been used for too long; attempting to tread water will always leave you sinking at this level.
Before the season began it looked as though we might get through to Christmas without a managerial change, but that no longer looks like the case. Here are the top five candidates to go first:
Just two matches into his tenure and already Steve Bruce is the favourite to be sacked first. That's no surprise given he has been tasked with replacing an extremely popular figure in Rafael Benitez, who greatly overachieved with a Championship-level squad over the last two years. Add to that continued fan unrest regarding Mike Ashley's ownership, Bruce's links with arch rivals Sunderland, and his recent record of playing dull defensive football, and it is no wonder Newcastle are nought for two.
They weren't particularly bad against Arsenal on the opening day – their 3-5-2 relatively well-organised – but a big defeat at Norwich has set off the alarm bells. Joelinton has understandably failed to hit the ground running while Miguel Amiron has been equally disappointing, and since they are the only attacking options in Bruce's system Newcastle will struggle to score goals this season.
Even more pressing is that Newcastle have a difficult run of away matches coming up, while St. James' Park is a toxic place to be at the moment. It's hard to see where Bruce will get the points, and since Ashley expects Newcastle to stay up it's the manager who will get the blame.
The spark seems to have gone for Hodgson at Palace. He has enjoyed a happy return to Selhurst Park but has seemingly run out of ideas, operating as he is on limited resources. They have played the same 4-4-2, with more or less the same line-up, for well over a year now – and opponents have simply found them out.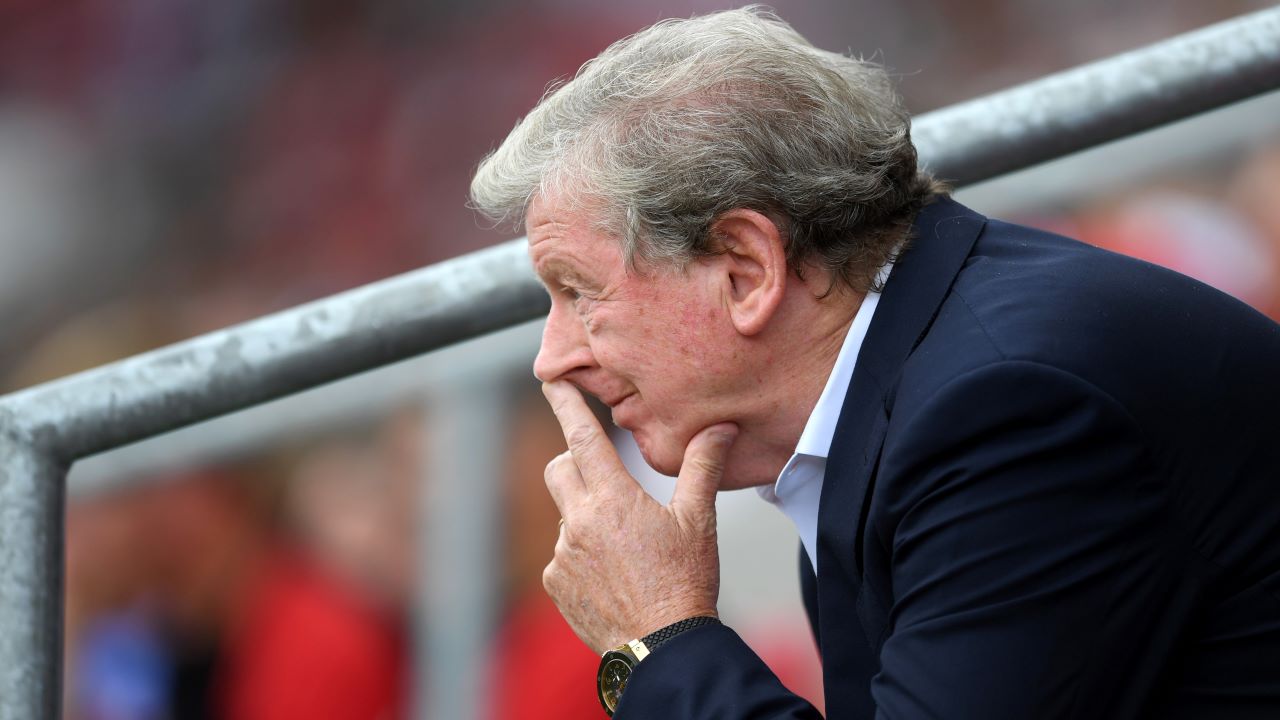 Palace are far too negative in their playing style, sitting deep in banks of four and waiting for opportunities to burst forward on the counter. Frankly, as shown by the newly promoted sides and Graham Potter's apparent revival of Brighton, that method of Premier League survival doesn't cut it anymore. Backs-to-the-wall defending is out of fashion.
What's more, Wilfried Zaha's desire to leave the club is clearly affecting his performances on the pitch and when the Ivory Coast international is playing badly Palace don't stand a chance. A quiet summer spells disaster for Hodgson's side, pointless after two games despite a kind fixture list. That ends this weekend with a visit to Manchester United before a home game against Aston Villa. Lose that one and Hodgson will be hanging by a thread.
Gracia's tactics are not as negative or as out-dated as Hodgson's, but they are equally stale. Watford are steadily decaying and have been for quite some time; having won the first four games of the 2018/19 season, Gracia's period of success at Watford arguably ended back in October. Their run to last season's FA Cup final, in which they pitifully collapsed against Manchester City, masked a dreadful dip to 23 points from their final 20 games of the Premier League campaign.
Two more defeats at the beginning of this one makes Watford surprise relegation candidates. This is partly because they did not make any significant signings to freshen things up, but largely because Gracia has been playing the same 4-2-2-2 formation and practically the same 11 players since his arrival. Like Palace, Watford have been found out.
Ordinarily quick to pull the trigger on managers, the owner Gino Pozzo certainly isn't sentimental and will let Gracia go as soon as he believes the club are in trouble. That could be as soon as next week.
There were enough positives from Man Utd's 1-1 draw at Wolves on Monday night to suggest Solskjaer's side are on track, and despite some pretty glaring tactical flaws he is, at least, playing with a clear tactical identity. That should buy the Norwegian time if results turn sour, particularly since his philosophy centres on pace and direct attacking – traits the United fans love to see at Old Trafford.
The midfield partnership of Scott McTominay and Paul Pogba can clearly be got at, while the short bursts of energy from Solskjaer's very attack-minded front four never seem to last 90 minutes. Consequently, in time, opponents will discover just how to hurt United and put the Norwegian's job in jeopardy. For now though, after four points in two games, Solskjaer's job is very safe.
The Villa manager has plenty of good will to fall back on. His attractive brand of football and his boyhood links with the club make him a fan favourite, which genuinely means something to a chairman and chief executive keen to connect with the supporters.
Of course, should results continue down this path then the positivity surrounding Smith will evaporate quickly; Villa simply cannot afford to be relegated after spending £130 million on players over the summer. They should be fine, however, if we analyse their performances rather than results.
Villa led Tottenham for 76 minutes in their first game and, despite two errors leaving them 2-0 down after 13 minutes against Bournemouth, clearly outplayed the visitors on Saturday. A lot would have to change for Smith to be sacked.